2020 Volvo V60 T5 R-Design
MSRP: $53,195
Monthly Payment: $496.00
Drive-Off Amount: $1,050.00
Months:36
Annual Mileage: 10,000
MF: 0.00002
Residual:55%
Incentives: $3,750 lease bonus cash
Region: Southeast (South Florida)
Leasehackr Score: 9.2
Leasehackr Calculator Link: leasehackr.com/calculator?make=Volvo&miles=10000&msd=0&msrp=53195&sales_price=48100&months=36&mf=.00002&dp=0&dealer_fee=799&acq_fee=995&taxed_inc=0&untaxed_inc=3750&rebate=0&resP=55&reg_fee=199&sales_tax=7.5&demo_mileage=0&memo=&monthlyTax_radio=true
I saw that the lease program for the V60 seemed strong for July, so I started sending e-mails to dealers outside of Miami with Denim Blue V60 R-Designs in stock. My hunch was that the program in August wouldn't necessarily be any stronger because of limited supply.
I ended up playing a couple of dealers against each other to get the pre-incentive discount over 10%. They were very reluctant to go over that and I didn't want to hassle with an out-of-state deal or work through a broker, which didn't seem like a possibility so late in the month and in Florida. In the end, I got the monthly payment down under $500, which was my goal and the out-of-pocket around my max of $1,050. I couldn't get the calculator DAS amount to match precisely, but the numbers do add up based on my math outside the website.
Considering today's environment, I am pretty pleased with this deal. We agreed to terms on Wednesday and the car was delivered to my house on Thursday morning from two hours away. Here she is: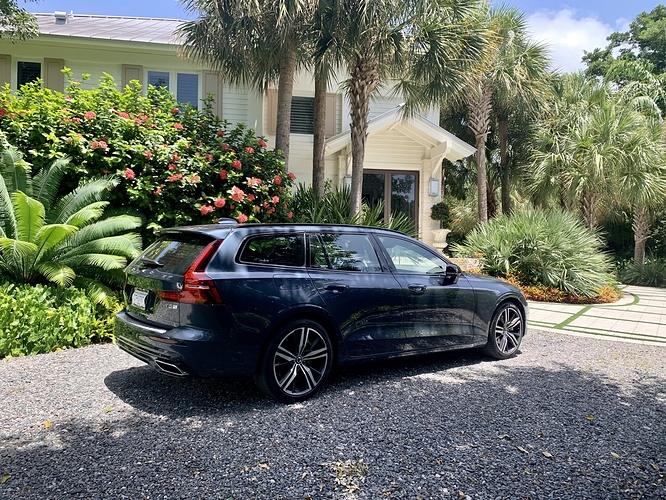 EDIT- Corrected calculator to show lease cash as non-taxed.