Yassssssssss!
Why hasn't Herman Miller made a chair that just becomes a napping pod?
That's a dooooope setup. I'm jealllly man
Have you considered adding another computer?
Thanks. 13 years self-employed and writing off upgrades. The podcast stuff is in closet and I'm debating monitor arms and 1 more display. But I prob don't need it.
I have a couple year-old dell i9 baby tower in closet if needed, and always something running in the cloud(z). My first roommate had a data center in his apartment (he moved multiple racks in, and this wasn't bitcoin mining these were all Sparcs). This is just a few screens
What's really missing is a BBT, but I can imagine other ways to spend 25k/mo.
I want to see your offices! Even if it's your laptop on the couch.
Oh there is also a backup Macbook in the file cabinet. How about a quick family photo (minus the phone and cloud machines)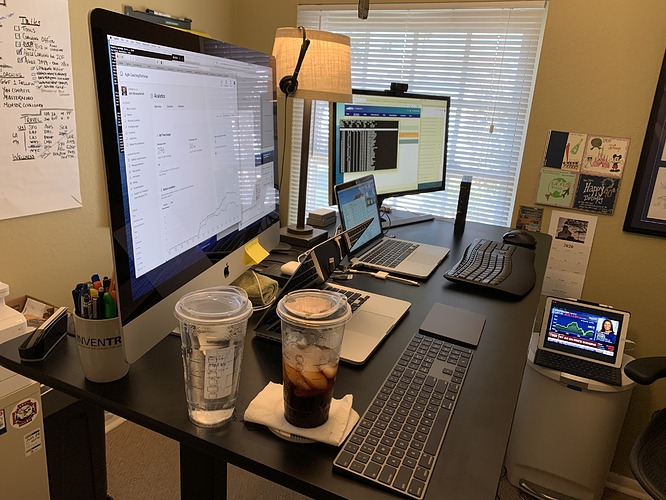 I really need a bigger desk. I end up putting my work laptop in front of my computer to use the desk space.
I suppose it would help if I moved the stack of plaques off my desk. I just don't have anywhere good to put them and I'm moving soon, so not much point in hanging them on the wall. At least they make a good printer stand.
I got this iMac a couple months ago, it replaced an identical one from 2013 that died the day the new one arrived (possibly from shame). Like refrigerators they go until they don't- good tools are money well spent.
Shhhh I'm in the middle of buying something.
Thanks Slava!
I don't care much for that:) all credit card have been stolen already through all retail stores hacks.
Well, I bought you something and it's being shipped to your house. Happy early birthday buddy
It died once already - it was power supply but luckily I was a able to change it under warranty (last few months of Apple care).
But this time looks like video is on the way out.
That's one part of all-in-one solutions I hate - can't change parts independently