[Update]
Hi all,
I just got an updated quote, I feel the discount price is not ideal, I would expect the selling price <35k. Please help me check on that.
They are okay with rolling the $3000 DAS into my monthly payment which will bring it up to around $420 with tax.
Please share any of your thoughts. Thanks!!

------------Original Post-------------
Hi all,
I've got an initial offer on a new 2020 Volvo V60 CC T5, the dealer said the sale price is without incentives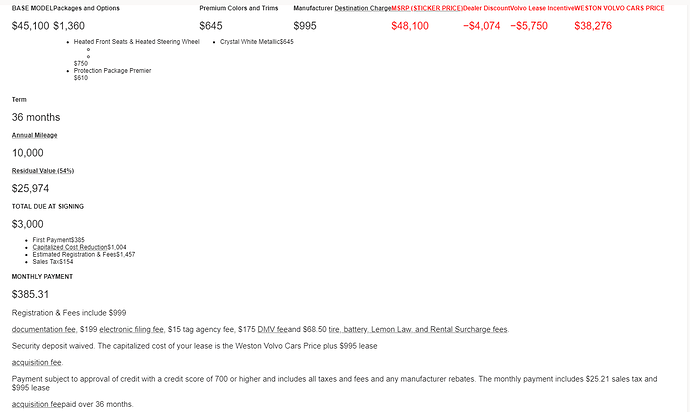 BASE MODEL
$45,100
Packages and Options
$1,360
Heated Front Seats & Heated Steering Wheel
$750
Protection Package Premier
$610
Premium Colors and Trims
$645
Crystal White Metallic$645
Manufacturer
Destination Charge
$995
MSRP (STICKER PRICE)
$48,100
Dealer Discount
−$4,074
Volvo Lease Incentive
−$5,750
WESTON VOLVO CARS PRICE
$38,276
Term
36 months
Annual Mileage
10,000
Residual Value (54%)
$25,974
TOTAL DUE AT SIGNING
$3,000
First Payment$385
Capitalized Cost Reduction
$1,004
Estimated Registration & Fees$1,457
Sales Tax$154
MONTHLY PAYMENT
$385.31
Registration & Fees include $999
documentation fee
, $199
electronic filing fee
, $15 tag agency fee, $175
DMV fee
and $68.50
tire, battery, Lemon Law, and Rental Surcharge fees
.
Security deposit waived. The capitalized cost of your lease is the Volvo Cars Price plus $995 lease
acquisition fee
.
Payment subject to approval of credit with a credit score of 700 or higher and includes all taxes and fees and any manufacturer rebates. The monthly payment includes $25.21 sales tax and $995 lease
acquisition fee
paid over 36 months.
10,000 miles per year with 25¢/mile overage charge.
Please also take a look at the leasehackr calculator I put in with the information dealer provided, I am not sure if I put everything right.
leasehackr.com/calculator?make=Volvo&miles=10000&msd=0&msrp=48100&sales_price=38276&months=36&mf=0.0007&dp=1004&dealer_fee=1281.5&acq_fee=995&taxed_inc=0&untaxed_inc=0&rebate=0&resP=54&reg_fee=175&sales_tax=7&demo_mileage=0&memo=WESFL%20volvo%20V60%20CC%202020%20&monthlyTax_radio=true
Based on the above, it looks like they are only at 8.5% pre-incentives. I'll try to push that to ~12% and add MSDs. Any other areas for improvement you see? Thanks!