There are only two that rent EVs that I know of. Hertz and Enterprise
It was Enterprise

Wasn't able to replicate this deal in SoCal. Hertz PC and National EE didn't help either. Free upgrades don't really count in my mind b/c you're just as likely to get stuck in an Altima.
I am getting quotes from Volvo with the intention of immediate buyout. In which case does it matter at all what the terms of the lease are? Term length, annual mileage, down payment, does any of it matter other than capitalized cost?
Depends on what state youre in and how things are taxed.
Then no, shouldnt make much difference.
Works even better if they drop the selling price/net cap cost in exchange for a marked up money factor.
This is really creative, I'll definitely ask!
Dealer near me is pushing a '22 ID4 Pro S for $440 a month (36 month lease / 10K miles) while rolling in $7.5K and ending up with $33K cap cost. Not sure if it's that great of a deal compared to taking a '23 model (same model and terms but '23, $482 a month).
Polestar joins the crowd.
Polestar 2 LR (47k) - 39/10 for $659/0 Down +TTL (which includes the 7500)
Polestar 2 LR D (54k) - 39/10 for $690/0 Down +TTL (which includes the 7500)
@twodice1 This is great. Mind sharing the msrp and discounts you received from the dealer?
I am interested in doing the same thing, did you make your deal yet? I've been trying to find out the terms, as far as the buyout goes but little success. I'm getting offers of around $2k off in addition to the $7500.
I backed out from signing the lease today, as my dealer wouldn't show the buyout terms until I signed the lease. Does anyone know what section or terminology is in the lease that confirms that rent charges are applicable for only duration of leasing the vehicle.
Theres a section that breaks down the calculation method for the "adjusted lease balance".
Wow, I would have done the same. I'm trying to get a review copy of the contract, from 3 different volvo dealers, and of course so far, have not been successful.
They have to show it to you when they ask you to sign it. Just do not actually sign if the buyout language is different than expected.
I finally found the appropriate section of the contract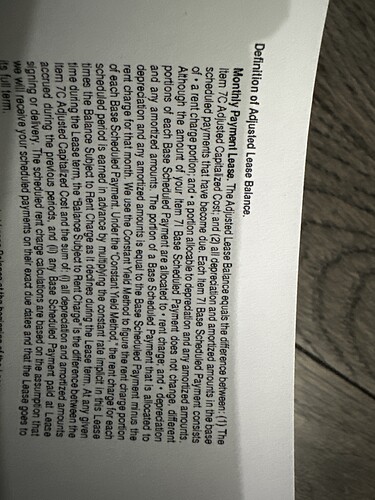 I'm no expert in reading the contracts but these two sections seem to confirm the hypothesis
Thanks for including the volvo language. I just received a review copy of the contract from my dealer and they left the 4th page off, which I assume included #42- it ended at #39. Page 5 starts at #62. I was just now looking over it looking for that language, and noticed a page was suspiciously missing.