Barely got a chance to sit down, got this 2 weeks ago. After shopping around for a while, I had to get something as I really needed a car. We stayed with only one car for a month, but I was forced to do something, could not rent anymore. This was the best I could do, got the car the evening before I had to go back to work.
Before you say anything, I know I know, looks bad to apply down payment, but after spending enough time at the dealer going over multiple possibilities, I just went with the ad offer in the end, just changing to 12000 miles. Initial ad was 36/10, 995 down, $205/month.
Somehow, rolling in that down payment would increase my total lease cost by $400, could not figure out why on the spot, but it wasn't the money factor. I got tired of it and I just took the deal.
Anyway, in the end I am getting an effective monthly of $292 with everything rolled in.
2018 Honda Clarity Touring:
MSRP: $37495
Selling Price: $25238
Monthly Payment: $217
Cash Due at Signing: $2934 (Includes $995 down payment, sales tax, DMV, first month) - after $1700 NYS rebate
The incentives were not itemized, but I believe it included $7800, $3000 and they sold me the car near invoice at $36038
Months:36
Annual Mileage:12000
MF:0.00047
Residual: 41%
Region: NY
Leasehackr Score:12.8
Pretty happy with the car, especially with free charging in my neighborhood. Looking at 1000 miles on 15 gallons so far. I don't see myself in it for 3 years though.
I have a feeling though that it might sell fairly well on Carvana after few months, this way I can shop around for something else without being rushed
They have one left in stock, I have no idea if they can repeat the deal. PM me if you want to try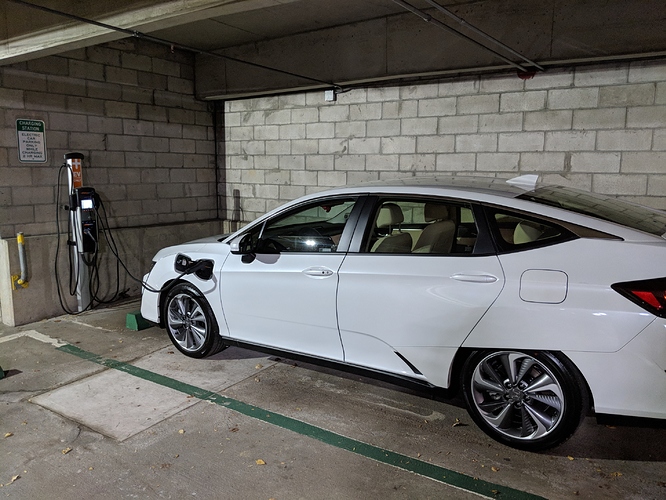 The one on the right