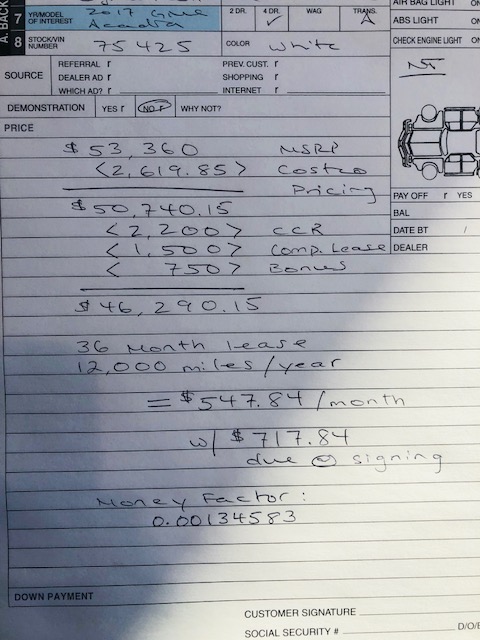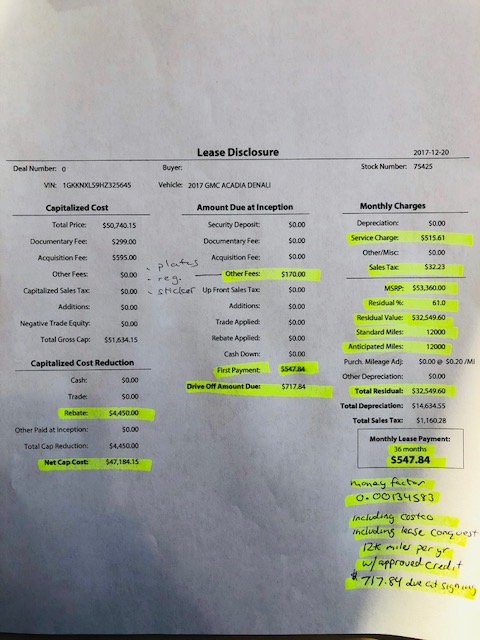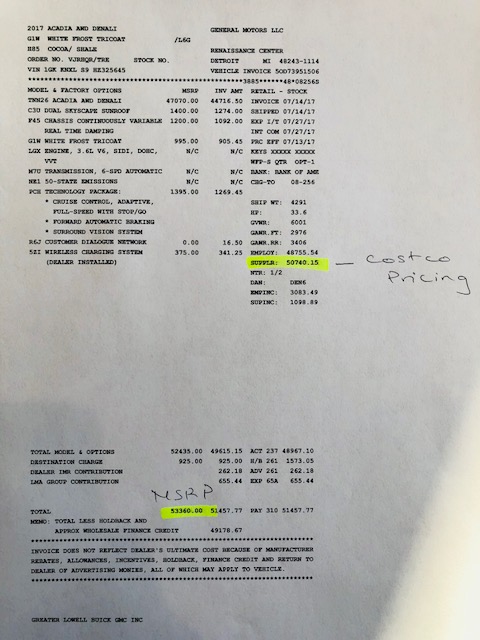 Looking at some of the lease numbers for Acadia Denali, this seems very high. Please let me know. Thanks
Run, and keep running away from that dealer. You should be in low $400's
Look for other threads on here. People are getting low 400's on these right now. You need to negotiate lower than Costco pricing. You should be $3,000 under invoice in a competitive market area.
Thanks. I am getting similar numbers from other dealers. I am responding to them to provide a 15% discount on MSRP before applying the rebates. I am aiming to get a deal in the low 400s.
3K underinvoice - The dealer told me if I find that, he would buy one for himself and one for his wife
.
So many salesmen say that line. Love proving them wrong.
I recently leased one for $440 a month with $0 that had sticker of $52k. I reached out to 6-8 dealers and best deal I could get was around $3700 off. I moved really fast (1 day of looking) since one of the rebates was expiring and wasn't sure if it would get extended.
Did you confirm that money factor wasn't marked up? Looks high to me.
I would say you should be able to get one for mid 400s fairly easily but lows $400 is going to take dealer offering amazing deal.
agree MF should be .00093.
Shop So Cal, I was able to find that at a couple of dealers.
If you can't get anything in the Boston area, maybe try NJ dealers. A quick JetBlue flight to EWR and then a roadtrip home
I like that idea. I will reach out to out of state dealers. Thanks a lot.
Do a search of dealers that still have plenty of 17's left of the lot. They should be more motivated to sell, the lease support will probably be gone at the end of the month.
That makes sense. The GMC website does a local search so I have to change the zip code every time. I am using cargurus so that I can see the local inventory. Let me know if there is a simpler method.
Go to the individual dealer websites and do a search. Find the 3 with the most inventory of what you want and start with all of them.
Try these guys if you are willing to come get it from NY
Speak to Victor. he is great to deal with…no games…straight up no BS.
Good Luck
Sure thing. I will contact Victor. Thanks
try banks gmc -THEY DELIVER ANYWHERE IN NEW ENGLAND and the denali is 350$ a month w/ a competitive lease
2017 GMC Acadia Lease Deal - $0 Down, $324/mo. for current lessees.
Payment valid for current competitive, Chevy, GMC and Buick lessees. $368 for new lessees.
Stock #G70785, MSRP $43645, 36 mos. 10K miles per year. See dealer for details.
Expires: 1/2/2018
I just looked on their site, and that lease deal, for STK #G70785, is for an SLE 2, not a Denali