It's just one guy who logs into multiple accounts to stir the pot. He doesn't get out much
crunch, crunch, crunch… this popcorn… delicious. Needs a bit more butter. Crunch, crunch, crunch.
I almost asked how long it would take for a newbie to question that…I refrained.
Incidentally, any word on whether he moved out of mom's basement yet?
No. Mom makes good food and the basement is warm. And now with leasehackr I am able to drive a bmw 7 series on my ssi. Life's good in the basement. Now that I started scamming okd people over the internet i am thinking of moving up to an nsx deal
In fact, i dont just have one alter ego but 21 including ursus cheapdad nyclife and jon. I also keep 3 women as sex slaves locked up in the other room.
My AR 15 collection is also fairly impressive and I keep them well oiled.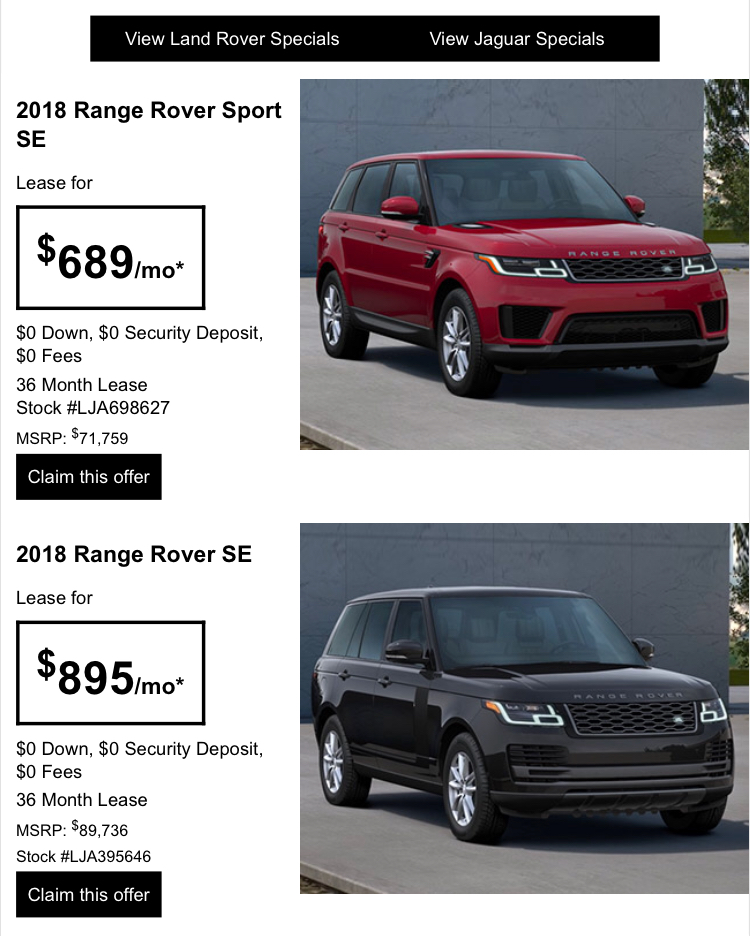 Wow. They really spelled out the $0 everything.
Where is this located? Thanks
This is in Sudbury, MA. Excludes taxes and fees and is 5k miles. The fine print is really fine here.
When will Land Rover introduce 2,500 mi/yr leases?
How on earth had I missed this thread before !
They will have a collector's lease - where you just take the car and park it in the driveway
I think they said they would roll out their 2500 mi/yr lease coinciding with their 108 month financing plan.
any SVR lease numbers? lol i know i am crazy
@vhooloo Any presidents day deal predictions for any make models. Let's start a thread
LOL. I will start the thread …
including driving 0 miles per year. . . . so sitting in my driveway is fine. That or the service department if you drive it.