Yeeeeep.
Guessed it from a mile away.
Well, 3000 miles away.
Just so everyone knows - I was able to get a similar/ if not better deal for a 2019 Civic EX for a friend by just emailing the dealers around in SoCal.
2019 Civic Si Coupe
$1000 out of pocket
Monthly Payment: 283 including tax
mileage allowance: 12k
Lets see your deal on paper, can you post it?
how is 2100 due at signing the same as $1500. Please get a microscope and compare deals better next time.
The only thing standard about this ad is the college grad info. Other then that, if you look at all the major websites that want 2000 to 2500 Due at signing. I am advertising with $1500 out of pocket.
Thank you,
I'm not trying to be a jerk, but If you're promoting like a $500 total savings, then you're likely wasting your time on this site.
I'll post the lease worksheet here for a far better deal than what you're offering. In return do you agree to beat it for folks on here? Because once I post that you won't be able to sell civics on this site anymore, not with the deal you have posted on here.
I have an offer of $278 true sign and drive, 0 DAS for a car that's $4k higher msrp than yours. Your deal is $260ish sign and drive. Crappy by any and every means.
So what are you offering Jack?
I'm very surprised to see this trashing being permitted on here. So what if his deals are not as good as other posted deals…it's his business, not yours.
Mark,
These folks bash deals and don't truly ever state the tangibles involved of them getting that "impossible deal". Perhaps they had loyalty or college grad applied. Or may be there friend of a friend or relative put way more down then they truly state. Im offering deals without loyalty or college grad. $1000 out of pocket means $1000, and $1500 means $1500.
Thank you for understanding!
PM him with these types of requests and show some courtesy to the broker who created this thread
My bad Ursus - noob antics - still figuring out how to PM… I guess that wasn't it!
Attached screenshot. This is after firing off emails to socal dealerships and narrowing down to best quote received. 3 dealers agreed to match this FYI.
No grad discount, no down, 0 DAS. I'll let everyone here judge and compare this deal in comparison to OPs. Everyone who pm'd me, sorry I can't share dealer details as per the dealers request.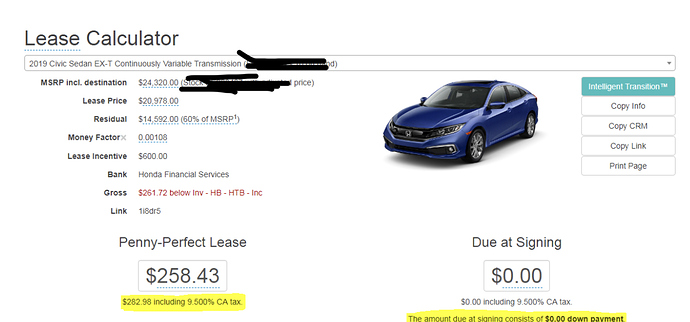 Beautiful lease calculator UI!
My friend developed that company and sold it to True Car in December for $27 million
Their loss True Car shoulda bought the LH calc!