Date: November 6
Year, Make, Model, and Trim: 2021 Mazda CX-9 Touring FWD w/ Premium Package
MSRP: $39,305
Selling Price: $34,680 (11.9% pre-incentive)
Monthly Payment: $351 (including tax & all fees)
Drive-Off Amount: $351 (first month)
Months: 33
Annual Mileage: 12k
MF: 0.00023 (confirmed on Edmunds)
Residual: 63% (confirmed on Edmunds)
Incentives: $500 rebate on Touring only
Region: NC
Leasehackr Score: 9.4
Leasehackr Calculator
Date: November 13
Year, Make, Model, and Trim: 2021 Mazda CX-9 Carbon FWD
MSRP: $42,180
Selling Price: $36,909 (12.5% pre-incentive)
Monthly Payment: $377 (including tax & all fees)
Drive-Off Amount: $377 (first month)
Months: 33
Annual Mileage: 15k
MF: 0.00009 (confirmed on Edmunds)
Residual: 61% (confirmed on Edmunds)
Incentives: $750 loyalty
Region: NC
Leasehackr Score: 9.5
Leasehackr Calculator
TLDR - Shout out to LeaseHackr for helping me get solid deals on two news CX-9s!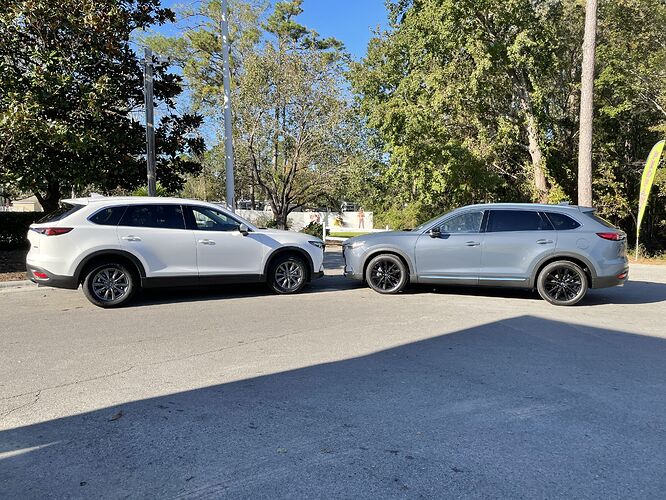 I started searching for a replacement for my mom's 2009 Ford Edge with 175k miles on November 1st. We test drove a CX-9, CX-5, Explorer, Forrester, Ascent, Telluride, Highlander, and Rav 4 that weekend and she kept coming back to the CX-9. Her second picks were the Telluride (not great on lease) and the Highlander (not as fun/less premium feel). We hadn't bought a car since 2008 so I researched negotiation tips and found LeaseHackr, Edmunds, & Your Auto Advocate which were all super helpful.
We initially were aiming for a 2020 CX-9 and got an offer from our local dealer then I used YAA email templates to reach out to a few dealers within 200 miles to compare. The numbers didn't look that great and when the November programs came in our local dealer shared the 2021s were leasing better. The updated infotainment for 2021 was a much-welcomed change so I had what we needed to dig into price research.
Our local dealer offered sticker price and buy rate on a 2021 Touring which felt like a pretty rough starting point. Over the next 24hrs, I used True Car to connect with several dealers and found one that said they would beat any offer. They had the exact model and trim level my mom wanted so after about 8 hours of non-stop phone calls (make a generic email and use a google voice number) I got the best offer from another dealer, brought that back to them, and then negotiated down to just under True Car's "excellent" range. The next morning we drove two hours out and took delivery. Paperwork was smooth and we were out within an hour. We shopped the Ford Edge around via Carmax, Vroom, Carvana and sold it to a local dealer for equal to KBB trade-in value to move it quick.
I recently relocated to NC and haven't had a car since 2014. While signing the paperwork on the Touring I saw the Carbon in person and loved the look. I enjoyed driving the Touring over the weekend so I reached out to the dealer about numbers on the Carbon. I felt pretty good about the deal on the first CX-9 and with loyalty and a little more leverage, I figured I could do better on a second one. I mapped out how many Carbons were in the market and realized demand is far less than supply. Most dealers have between 2 and 6 in inventory and there were more Carbons than any other trim. I used that in my final offer with the dealer and we got to a number I could live with. It was well below any price target I could find via Edmunds, True Car, etc and the sales manager flattered me with a little theater by needing "his GM to approve the deal" before I put the deposit down. We drove back a week after picking up the first CX-9 to sign for my CX-9.
I looked at the Audi Q5 but I'm over 6' tall and it felt a little snug. The other near-luxury 3 row SUVs were not interesting to me and all the luxury 3-row SUVs were well over my target monthly payment. No real need for AWD in NC so couldn't justify the additional $$ and hit in mpg on the CX-9.
Huge thanks to the community here. We saved over $160 a month by not taking the local dealer offer and shopping around. LeaseHackr Leasing 101 was really helpful and the forums here were invaluable for understanding monthly payment ranges for all the vehicles in the segment. I used the calculator to set my target deals and it made the conversations with dealers straight forward and only focused on selling price. Much respect to the brokers here making it easy to get into competitive leases. I wanted to give negotiating a shot but will definitely consider using a broker in the future for simplicity. Not many brokers in NC so it was great to have benchmarks for a decent deal in other markets. I'm very impressed and grateful that the moderators for Edmunds keep up with the requests for MF/RV. If you're new to the leasing game like I was, definitely take some time to watch a few videos on the Your Auto Advocate YouTube channel. They break it down in clear terms and I find the father/son dynamic endearing.
My dad is driving and 06 4runner with 155k miles and he's pretty firm on wanting a 2020 Ford Ranger next, which seems to lease poorly. I'm trying to get him into a Tacoma, Tundra, or even a Ram 1500 but we'll see. I'll probably take the time to sell the 4runner private party since it runs well and supply on used 4runners seems to be down right now. Either way, I'll definitely be using LeaseHackr to get the best deal!