Figured that was the case. Got me excited

Jim - To lock in the current pricing, must take delivery this month?
Just curious how this works with the vehicles, Tacos specifically, that are marked "in bound."
Thanks!
Discount will be the same but rates can change if it's not in this month. We can usually backdate them if they go up a lot and come in within the first week or so of next month. Usually it's good to be ok with $10 in either direction
Huge $7400 off msrp on black/cream 1794 2023 tundra with off-road package.
Text if interested
Jim
215-359-6836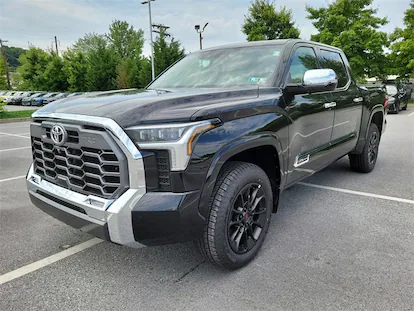 Bunch of siennas available at msrp
Black white and blue limiteds
BlCk plat
White xse
Text
Jim
215-359-6836
Is there a 2024 Tundra option code sheet?
I dont yet. Many codes are the same though
Jim,
Have any Rav4 XLE hybrids? Looking to do $1k-$2k MSRP… do you think that's possible?
I think he will be all over that
Under msrp? Def can't. Haven't ever seen more then 1k off and that's usually end of month instock desperation. They have no prob selling these at msrp
I hope you talk your son out of throwing all that money away… Shopping by payment only, and putting 20k down (or ANY money down) on a lease is a dangerous shell game. Read all the information about leasing on the main website. Good luck!
I took care of him. Saved him over $7000 from his local dealers quote.
Any Sienna XLE 8 seaters available at MSRP? I'm looking to buy one asap
Just 7pax at msrp+ 1k broker fee and 200 doc fee. I can order at msrp or locate them if you're willing to travel or ship it. Text if so
Jim
215-359-6836
How expensive is it to put in another bench/seat?
Hey! What are lease terms on a Sienna?
I've never leased a sienna. Everyone buys them as they hold value so well leasing doesn't make sense.
I have a bunch coming in at msrp+tax tags fees. Text if interested
Jim
215-359-6836
Just wanna confirm, the only trim Highlanders with the 5k off are the xle fwd correct?