What is the discount being offered for a Grand Highlander Hybrid Limited? Any avaliable to test drive?
He wrote all hybrids as MSRP but I'm curious what the discount is in the gas version.
No Grand Highlander Hybrid limited available.
What gas vehicle are you looking for?
I can do $1000 off from my list above
all due respect, $650 on a highlander is bad
Long Island prices
There's always enough fools to sign
I don't believe the last 4 ppl from here that leased grand highlanders for less than $600/mo are fools. 7-8 pass spacious suv w/free maintenence and reliabilitly!
$0 DOWN $529/MO ON THIS LOADED $52K BZ4X!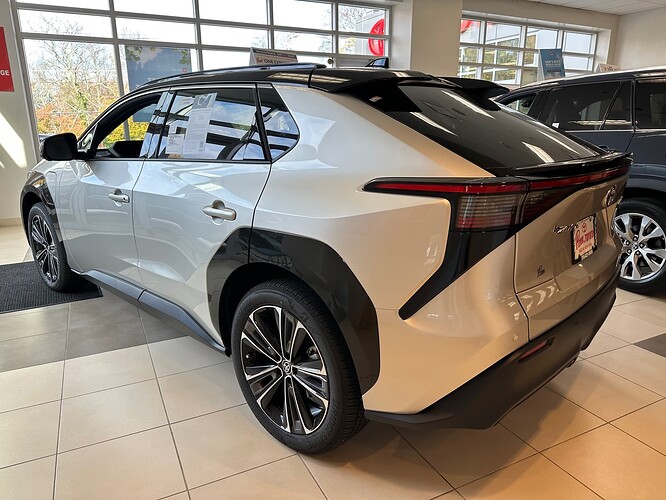 c4fb7ed3-9f15-4d4c-86a0-f6c1e0fad5fd.pdf (406.0 KB)
hello,
what is best you can do for RAV4 hybrid limited?
thank you
hybrids are at msrp, are you looking to lease?
$599/mo 7.5k/39mos through cal:
OFF MSRP BLACK FRIDAY WEEK SPECIALS!
| Model Name | Ext. | Int. | Yr. | VIN | Accessories | MSRP | Selling$ |
| --- | --- | --- | --- | --- | --- | --- | --- |
| Camry SE AWD | white | grey | 2024 | 4T1G11BK4RU112480 | FE 1T 2T D5 DK MF RO WL | 31,288.00 | 29,995 |
| Camry SE AWD | white | black | 2024 | 4T1G11BK2RU112347 | FE CY 1T 2T D5 DK MF RO WL | 32,388.00 | 30,995 |
| Camry SE | white | black | 2024 | 4T1G11AK8RU866306 | FE CY 2T B0 D5 WL | 30,957.00 | 29,699 |
| Camry SE | grey | grey | 2024 | 4T1G11AK1RU872299 | FE 1T 2T D5 WL | 29,609.00 | 28,499 |
| Camry SE Hybrid | blue | black | 2024 | 4T1G31AK9RU068973 | FE CY 1T 2T D5 DK EF MF RO WL | 33,487.00 | 33,487 |
| Toyota Crown XLE | white | black | 2023 | JTDAAAAF2P3015957 | FE PC 2T DK GN | 41,828.00 | 39,799 |
| Toyota Crown XLE | white | black | 2023 | JTDAAAAF2P3017580 | FE PC 2T MF | 41,928.00 | 39,899 |
| Toyota Crown Limited | black | black | 2023 | JTDAAAAF1P3016629 | FE AT LT 2T DK GN | 49,953.00 | 47,299 |
| Toyota Crown Limited | black | black | 2023 | JTDAAAAF9P3017320 | FE AT LT 2T MF | 50,053.00 | 47,399 |
| Toyota Crown Platinum | wht/blk | black | 2023 | JTDAFAAF7P3004129 | FE PC TX 2T DK MF | 54,878.00 | 51,799 |
| Toyota Crown Platinum | bronz/blk | black | 2023 | JTDAFAAF4P3004492 | FE PC TX 2T DK GN UO | 54,943.00 | 51,799 |
| RAV4 Hybrid Woodland | wht/blk | black | 2024 | 2T3UWRFV8RW190131 | FE CY TX WO BM D5 | 37,875.00 | 37,875 |
| RAV4 XLE | grey | black | 2024 | 2T3P1RFV0RC400119 | FE CY 2T 3J 3T MF WL | 34,628.00 | 34,628 |
| RAV4 XLE | red | black | 2024 | 2T3P1RFV7RW414114 | FE CP CY PC 2T 3J 3T BM D5 MF WL | 36,723.00 | 36,723 |
| RAV4 Hybrid XLE | black | black | 2024 | 2T3RWRFVXRW189987 | FE CY 2T BM D5 MF WL | 36,189.00 | 36,189 |
| RAV4 Prime SE | silver | black | 2023 | JTMAB3FV3PD161237 | FE CO 2T 3J 3T BM D5 DK EF GD MF WL | 47,742.00 | 46,399 |
| RAV4 Prime SE | blue | black | 2023 | JTMAB3FV7PD161225 | FE CO 2T 3P 3Z 59 BM D5 DK WL | 47,413.00 | 46,119 |
| RAV4 Prime XSE | wht/blk | black | 2023 | JTMEB3FVXPD161124 | FE CY HT PC 2T 3J D5 DK MF WL | 50,378.00 | 48,995 |
| RAV4 Prime XSE | grey/blk | black | 2023 | JTMEB3FV3PD160753 | FE CY HT 2T 3J D5 DK MF WL | 49,953.00 | 48,699 |
| RAV4 Prime XSE | grey/blk | black | 2023 | JTMEB3FV7PD161727 | FE CY HT 2T 3J EF MF WL | 49,872.00 | 48,499 |
| RAV4 Prime XSE | grey/blk | black | 2023 | JTMEB3FV8PD162451 | FE CY HT 2T 3J D5 DK MF WL | 49,953.00 | 48,699 |
| Corolla Hatchback SE | white | black | 2024 | JTND4MBE4R3218293 | FE 2T EF MF WL | 25,043.00 | 24,599 |
| GR Corolla Premium | black | black | 2024 | JTNABAAEXRA007877 | FE PM 2T G0 GN | 41,532.00 | 45,995 |
| Corolla Cross LE | white | black | 2023 | 7MUBAABG9PV077288 | FE EJ MR PC 2T 3Y D5 MF | 31,413.00 | 31,413 |
| Corolla Cross LE | celestite | black | 2023 | 7MUBAABG0PV076756 | FE EJ MR 2T 3Y D5 MF | 30,988.00 | 30,988 |
| Corolla Cross XLE | celestite | black | 2023 | 7MUDAABG8PV077999 | FE CP EJ 2T 3T 3Y BM D5 MF | 33,653.00 | 33,653 |
| Grand Highlander XLE | silver | black | 2024 | 5TDAAAB54RS024859 | FE SR 2T | 47,773.00 | 46,699 |
| Grand Highlander XLE | black | black | 2024 | 5TDAAAB58RS025206 | FE BS 2T | 46,423.00 | 45,399 |
| Highlander LE FWD | black | black | 2023 | 5TDKDRAH6PS526016 | FE 2T 3T EF MF WL | 41,422.00 | 37,995 |
| Highlander XLE | white | black | 2023 | 5TDKDRBH7PS522488 | FE EE PC 2T WL | 46,613.00 | 44,995 |
| Highlander XLE | white | black | 2023 | 5TDKDRBH6PS523275 | FE EE PC 2T WL | 46,613.00 | 44,995 |
| Highlander XLE | grey | black | 2023 | 5TDKDRBH3PS526733 | FE BS EE 2T WL | 46,188.00 | 44,499 |
| Highlander XLE | black | black | 2023 | 5TDKDRBH1PS526794 | FE EE 2T WL | 46,188.00 | 44,499 |
| Highlander Limited | grey | grey | 2023 | 5TDKDRBH5PS527432 | FE SB 2T 3T WL | 51,258.00 | 49,995 |
| Highlander XSE | grey | black | 2023 | 5TDKDRBH8PS527280 | FE EN 2T BM D5 DK MF | 49,223.00 | 47,995 |
| Tacoma TRD Sport | white | cement | 2023 | 3TMCZ5AN7PM647867 | FE CM ED LG PY 2T 3J 3P B5 DK MF | 42,845.00 | 41,995 |
| Tacoma TRD Off-Road | white | cement | 2023 | 3TMDZ5BN8PM164990 | FE CM LG OC TC 2T 3J WL | 43,493.00 | 42,499 |
| Tacoma TRD Off-Road | white | cement | 2023 | 3TYDZ5BN3PT030571 | FE CM LG OC TC 2T 3J 3P R2 WL | 44,037.00 | 42,995 |
| Sequoia Capstone | black | blk/wht | 2024 | 7SVAAABA5RX024284 | FE CS NF 2T DK | 84,118.00 | 84,118 |
| Tundra SR5 | white | graphite | 2024 | 5TFLA5DB2RX144642 | FE ML SZ 2T 3J 3P LB T7 VA WL | 55,891.00 | 53,399 |
| Tundra SR5 | grey | black | 2024 | 5TFLA5DB7RX145916 | FE AT EE MK RQ WS 2T 3P LB T7 WL | 62,881.00 | 59,699 |
| Tundra Platinum | silver | black | 2023 | 5TFNA5DBXPX093056 | FE AQ MQ RB 2T 3P 7R LB T7 XX | 69,191.00 | 62,199 |
| Tundra Limited | lunar | black | 2024 | 5TFWC5DB4RX046820 | FE BK EJ LX LY LZ MO WS 2T 8Q D5 R8 | 66,773.00 | 63,499 |
| Tundra 1794 Edition | silver | saddle | 2024 | 5TFMC5DBXRX043640 | FE HU LW MJ RB D5 LB | 73,959.00 | 70,229 |
| Tundra Capstone | black | black | 2023 | 5TFVC5DB9PX039290 | FE 2T D5 DK | 79,824.00 | 75,699 |
| 4Runner Limited | white | black | 2023 | JTEKU5JR9P6209621 | FE LT PC QC TS 2T MF R6 | 54,833.00 | 51,699 |
| 4Runner Limited | white | black | 2023 | JTEKU5JR1P6185959 | FE LT PC QC 63 | 52,424.00 | 49,699 |
ALLY LEASE GAP INCLD $0 DOWN $549/mo 10,000MILES/39MOS
CALCULATION BASED ON LONG ISLANDER TAX AND NEW NYS PLATES
NYS Registration only
Jerico is on vacation till 11/25. please contact me -michael
Lease and then buy out candidate
are you asking if you are able to buy it out after leasing? if so yes you may at any time (residual + remaining pmt + tax and title cost)