Update for October. Some deals that standout this month! Here's my review thread:
2020 Tacoma SR $161/mo + tax tags!
2020 Tundra Crewmax offrd and sport. $48-49k msrp. $257/mo and $270/mo plus tax tags dealer doc fee! 24/10 lease. No msds needed or allowed on these. No shipping with this bank, must be picked up outside of philly. You can return the lease and service it at any Toyota nationwide
Shipping can be done on the crewmax through ally bank. Payment is $23/mo higher
2020 tacoma pricing without msds. So even better if you do msds!

2020 Tacoma usbank pricing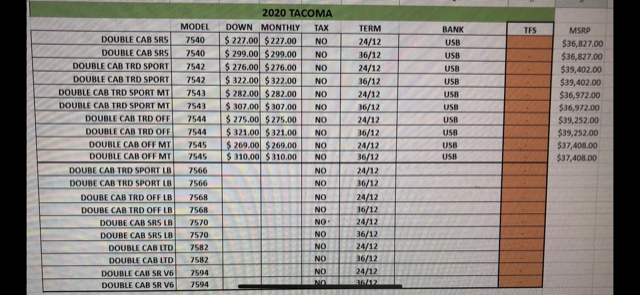 October pricing for 2020 4Runner and tundras. Most 2019s of other trims stayed about the same

$38500 msrp
Taco sport auto trans
$240/mo +tax/tags
No msds, no gap needed, no disposition fee, acq fee waived as well
24/12 lease!
$43000 msrp highlander xle
36/10
$309/mo ++
No msds needed, no gap, $395 dispo
RAV4 Le $240/mo +tax/tags msds
$29000 msrp
36/10
Gap required
4Runner sr5
$325/mo+tt
36/10
No gap, no dispo, no msds!
READ EVERYTHING BELOW BEFORE TEXTING ME!!!
PLEASE DO NOT ASK PERSONAL QUESTIONS OR FOR QUOTES ON THIS FORUM, or through private message. TEXT ONLY. My number is listed below!!!
My deals are all located outside of Philadelphia. If you cannot pick up or arrange your own shipping, I cannot get deals for you.
Return and free 25,000 mile maintenance at any Toyota dealer nationwide.
Please do not text me for pricing until you've driven the vehicles you're interested in. That's why I provide the spreadsheets below, to guide you with an estimated price*
MSDS, when applicable, as well as Tax, tags and $144 dealer document fee not included in numbers below. In my pricing below, the total down payment includes your first month and the msds only!
*if doing msds, you'll be going through Toyota financial. They require gap insurance, $500 for the lease term. However most personal insurance companies offer it much cheaper, so check with them first! No msds for usbank or ally leases.
*delivery available to the following states for $200-$400, cheaper if you have a Toyota lease going back.PA, NY, NJ, MD, DE, MA, CT, NOVA
Ny is not allowed msds, but can do one pay leases, ask me about that if interested. It saves a lot of $$$.
Text me only for pricing. No calls, emails or PMs through here. Text only. Once we make contact I can schedule a phone call with you if you prefer. 215-359-6836
All trucks/suvs are 4wd/awd. Members bank is only for pa, nj, md. Out of state buyers, pick up is outside of philly, lease return and service at any Toyota dealer. If shipping, you must arrange that personally.
2 years and 25,000 miles of free maintenance. Gap insurance is included in usbank, ally and members bank leases. Msds are only possible on Toyota financial leases.
Protection plans starting at $350 for the lease term!!!
Msds, or multiple security deposits, are a very effective tool for Toyota leases. They lower the % rate more than any other brand that I've seen. Typically you get a guaranteed 15-25% annual return on your money, lowering your payments anywhere from $30-$100/mo depending on msrp. If you have any questions about msds feel free to ask! They are only allowed when financing through Toyota financial services. Sometimes it's cheaper to use other banks and skip msds, putting $0 down!
Pricing does not include tax, tags, $141 doc fee. $500 Fee for me also not included.
******Text me for exact pricing with tax/tags/dealer fees included. I will reply with monthly pricing with nothing down. Please include exactly this in your first text. Then ask any questions:
Zip
Exact Vehicle desire (ie rav4 xle)
Miles per year
Msds or no msds
Approx credit score
Thanks!
Jim
215-359-6836
ALL PRICING DOES NOT INCLUDE STATE TAX, TAGS, DOC FEE