Mercury Insurance was the cheapest for me. EV prices are insane.
0% → 5% MSRP discount before incentives. IMO after looking at deals across Leasehackr both MSRP discount and the 7,500+2,500 should total 20k OR more combined at this point. The ones here in the midwest either laugh at me or call me a liar when I say that's kind of the running rate if they want to be competitive.
My goodness. Buyers have all the leverage these days. I'm not going to pay more than $1000 a month for an EQS SUV 580. Eventually dealers will meet my price for a lease or financed CPO
Yes, it does flash severe speed restriction but with a good amount of distance from the wall. If you go forward, it let's you and there is no emergency brake just before you hit the wall.
Fortunately, last time it was very close, but didn't really hit the wall.
hang a tennis ball on the ceiling and stop whenever the windshield hits the ball, works like a charm
I thought all EQS came with the 360-degree camera and park assist?
The tesla subreddit knows all about that.
My car is almost 5 inches longer** and I just stop when I hear the first beep from the collision sensor thingie.
** As I learned here this week, because I crave status and have an inferiority complex
I am factoring in the $1200 that I had to pay in wear and tear and I was 8000 miles over on my previous lease. They took care of both as well!
Went with my neighbor today in their 2022 Model X to grab some stuff from Home Depot. I got to remind myself how much Teslas rattle incessantly, squeak, and complain over slight bumps. And not having a sun shade over that monster windshield/roof glass is punishing.
The Model X is very fast though, which makes getting from red light to red light much more fun I guess. And he had park assist in his 2022. Yay.
Anyway, EQS is so good in comparison for rider comfort. At least, in this EQS that doesn't have any suspension clunking issues heh. Really hope you all can score a great MB EV when the great leases return.
Yeah, it is extremely hard to comprehend that two solid objects cannot share the same space. I.E. cannot close the garage door if the car is not all the way in. This was discussed multiple times here on this thread that parking these cars is a bit of an adventure. And, yes, AEB was discussed as well. Clearly, his car does not - or did not - stop as intended. Anymore spoon feeding needed?

Tapped into the mirror. Took maybe 15min.
Do you happen to remember where you tapped? And how to get the mirror housing off safely? I tried searching other MB forums and it seems there isn't much of a DIY crowd there lol
Do you all know why the RWD EQS 450+ seems to tank in value so much harder than a EQS 450 4matic? The MSRP difference isn't super extreme, but the 450+ tend to list for much less than 4matic. Here's a $14k delta, which is almost 18% premium for the 4matic vs the 450+.
There's a lot more used RWDs for sale than 4matics. So I think its just "rarity" difference.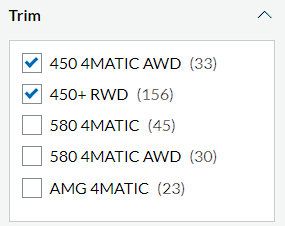 I made the mistake of getting a large RWD sedan with too much power for just two wheels, so that's where my mind went first.
Then I considered that the 450 accelerates only marginally better than our 2008 Lexus RX Turdwagon, and then just sat here and looked into the air for another answer.
I think you had some extra filters on. Try to expand to nationwide search. If you just look at used 2023, the mix is about 50/50 between the 450+ RWD and 450 4matic.
2022 models are almost all 450+ since it seems the 4matic came out later. But I'm still baffled why there's such a price knock-down for the 450+. PS, I really hope I can get this CQS450 4Matic at the end of the lease for $40,000 hehe.