Yeah but what you don't see is the detailing people wiping off fingerprints and smudges 24/7
Can you check the materials inside the CT5? Want to see if they're on par with the 5 series and E class. Thx.
Looks the same

Last I heard It cost to Floss! I saw the cleaning/wash kit for the finish $300 Sting!
"The company, headquartered in Plymouth, Michigan, is drawing significant interest from consumers. As Tesla Inc. did with the Model 3 sedan, Rivian has been taking $1,000 deposits for the R1T pickup and R1S SUV that will go on sale starting in the fall of 2020." Bloomberg
I passed by during the introduction. I really like Cadillac's new front end. Much better than Lincoln and Acura IMO. Will sit in it later if I have the chance
I know they are at diff price points but the Q8 and the rest of the cliched "coupe suv" are just so plain Jane. Urus is the sex. I'm a huge Ferrari fan but nobody draws attention like Lambo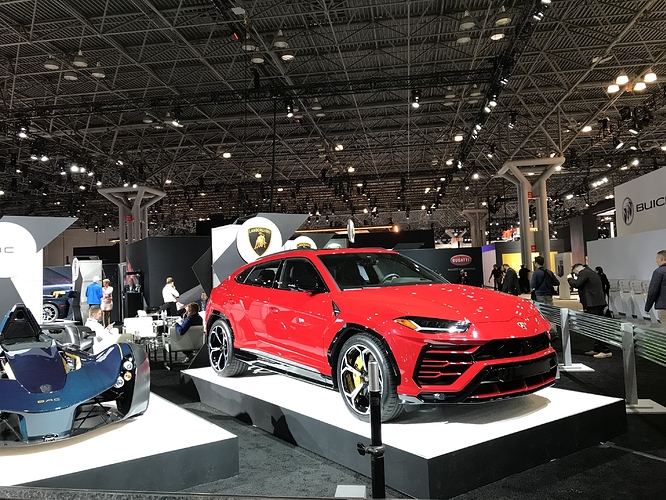 I was prepared to dismiss Rimac as a kit car but it looks great in stunning two tone livery. Lovely Koeniggsegg a little bit overshadowed by it.
Most disappointing so far
And I'm not the only one. Zero attention being paid to it. Not a soul in sight. Even the rep must have quit and gone home
Sales wise they upped production and basically every model sold has been an order.
Is it true you can get $500 certificate for attending NY show from VW?
Saw it as available rebate in one of dealerships website.
Probably true. I saw another booth had tablets to sign up for a certificate
Know if Genesis is giving out any auto show coupons? I think I read about a 1k bonus on Edmunds.
How's the food at the various owners' lounge?
Idk. Have not been to any lounges
Oooh can you snap a pic of the AMG CLA35, one that's NOT in that hideous yellow ideally? Pretty plz
The E class leads the segment IMO and the CT5 isn't up there but can compete with most of the rest.
Also hard to judge when it's an ugly (IMO) color scheme (two tone white and black upholstery with red stitching)
The Urus is stunning in person.