Hey hey! My name is Anthony. I've been a follower of leasehackr for a few years, hacked a few deals here and there, and now I'm finally taking a shot at brokering. Since I was a kid I always loved cars and as I got older I became fascinated with the process of car buying which lead me to find LeaseHackr! I realized how stressful it was and after slowly "mastering" it, I sought to help others not as knowledgeable and extroverted as me. It brought me great joy to be able to help family and friends get great deals on cars and be able to lift a little bit of the burden in the process. I have been a strong advocate for electrified vehicles for many years, but in the past 3 years have been doing lots of volunteer work with my local chapter of the Electric Vehicle Association. I have attended many EV car shows, rides and drives, and green fairs up and down the state of NJ advocating for EVs, and I have even spoken at a few EV-specific conferences and webinars speaking about my experiences as an EV driver.
I am lucky to be able to offer the VW ID.4, one of the most competent new EVs on that market that I happen to drive myself, as my debut LeaseHackr deal
Transfer your Volkswagen ID.4 order with $1000 OFF MSRP!
(Volkswagen is no longer accepting new ID.4 orders as of 01/05/2023)
/ No other mandatory accessories or policies, $599 dealer doc fee applicable
/ dealership offer open to residents of any state
/ Pick up at NJ-based dealer (Charge Up NJ Eligible Dealership)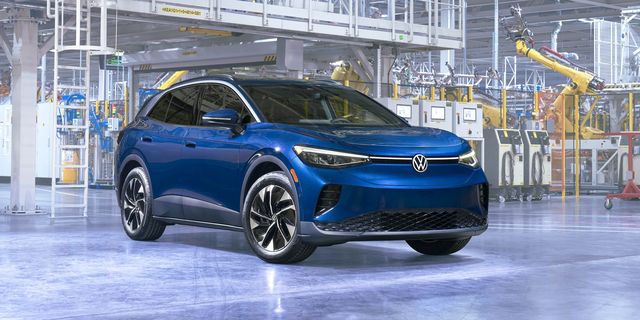 Built here in Chattanooga, Tennessee, the 2023 Volkswagen ID.4 starts at $38,790 for the Standard (62kWh RWD) trim level with 209 EPA-rated miles of range. Get up to 275 EPA-rated miles of range with the ID.4 Pro (82kWh RWD) starting at $43,790, (255mi for AWD trims). All new 2023 ID.4's come with THREE FREE YEARS OF CHARGING (30-minute DCFC sessions) at Electrify America stations.
Notable Standard Features:
LED automatic headlights, Daytime Running Lights (DRLs), and taillights with rain-sensing wipers
KESSY® advanced keyless entry
a Discover Pro Max 12" touchscreen navigation system with voice control, Bluetooth® connectivity, wireless phone charging, and featuring Apple CarPlay & Android
interior multi-color ambient lighting and ID. Light
Rear View Camera featuring F+R Park Distance Control including Park Assist Plus w/ Memory Parking (new for 2023)
Front Assist (Forward Collision Warning & Autonomous Emergency Braking w/ Pedestrian & Cyclist Monitoring) + Blind Spot Monitor (Side Assist) w/Rear Traffic Alert (both of which I personally have put to good use)
the advanced IQ.DRIVE® driver assistance suite featuring Travel Assist 2.0 with adaptive cruise control, Lane Keeping System (Lane Assist), Adaptive Cruise Control with Stop and Go, Traffic Sign Recognition, and Emergency Assist 3.0
Color Options:
Standard / Pro / AWD Pro
-(Int) Stone (Gray Cloth & Black Leatherette)
(Ext)
Silver Mist Metallic
Deep Black Pearl
Pure Grey
Pure White
-(Int) Nutmeg (Gray Cloth & Brown Leatherette)
Tourmaline Blue Metallic
Deep Black Pearl
Pure White
S / Pro S / AWD Pro S / AWD Pro S Plus
-(Int) Cosmic (Gray & Blue Leatherette)
Arctic Blue Metallic ($395)
Silver Mist Metallic
Tourmaline Blue Metallic
Deep Black Pearl
Opal White Pearl ($395)
Pure Grey
-(Int) Galaxy (Black & Gray Leatherette)
Aurora Red Metallic ($395)
Silver Mist Metallic
Deep Black Pearl
Opal White Pearl ($395)
Pure Grey
Federal Tax Credit Eligibility
2023 Volkswagen ID.4 purchasees as of 01/01/2023 will be eligble for up to a $7500 federal tax credit (after meeting income limitations).
Battery origin requirments have been delayed. Treasury will issue a notice of proposed rulemaking (NPRM) in March with proposed guidance on the critical minerals and battery components requirements. By statute, the critical mineral and battery component requirements take effect only after Treasury issues that proposed rule.
Please contact a tax professional to determine if you are eligible and for further questions
08/22/22 Update - VW has made a deal with Canada to source nickel, cobalt, and lithium for battery production to adhere to the 2023 IRA EV federal tax credit requirements.
Learn more HERE about the new Plug-In Federal Tax Credit
Qualifying New Jersey residents get up to an additional $4000 off with the ChargeUp NJ incentive program + 0% Sales Tax on all BEVs
eligible vehicles MSRP priced <$45,000 receive a $4000 incentive
ID.4 (Standard, Pro, S)
eligible vehicles priced $45,000-$55,000 receive a $2000 incentive
ID.4 (Pro AWD, Pro S, Pro S Plus, Pro S AWD)
After completing your reservation, you will receive communication from the dealership to LOCK your incentive money.
Get a $250 EV Charger Rebate when purchasing an eligible Level-2 Smart EVSE
Must purchase eligible brand-new level 2 smart EVSE
NJ resident
Valid EV registration
Can apply for up to two charger incentives through the program; however, a second incentive is available only if the applicant has moved to a new address.
Only one charger incentive is available per vehicle registration (tracked by VIN).
UPDATE 9/22: Now including Blink & Enel X units!
Need to install a residential EV Charger (NJ)? Your utility provider might reimburse you for it!
PSE&G Electric Vehicle Charging Program - Customers are eligible for an on-bill credit of up to $1,500 toward the cost of upgrading CSMR assets for the installation of a residential Level 2 smart charger. If there are any customer costs associated with upgrading the service of Utility owned assets to the property, customers are eligible for a reduction of up to $5,000 in any required customer deposit for USMR work performed by PSE&G to support the additional electric load in a safe and reliable manner. Pending charger approval, customers may receive a Residential Off-Peak Credit for charging during off-peak periods to help reduce costs.
JCP&L EV Driven Program - provides up to $1,500 in incentives for customer electrical upgrades necessary for the installation of up to 2,000 qualified Level Two electric vehicle chargers in JCP&L's service area. Qualified residential customers may also be eligible for up to $5,500 in utility upgrades, such as new poles, transformers, and service wires, required to support the chargers. Additionally, bill credit incentives may be available to encourage off-peak-hours charging.
ACE Residential Charging Program - The Residential EV Smart Charger Program offers rebates toward the installation of smart Level 2 EV charging equipment in homes that have ACE residential electric service. This residential offer is targeted at customers that have a garage or parking area under their control. A residential customer is eligible for one rebate for a smart Level 2 EV charger within the program cycle. Each residential rebate will be for up to 50% of the eligible make-ready installation costs (net of other applicable incentives), capped at $1,000.
Transfer your ID.4 order for $1000 off MSRP today!
Transfers will have a $199 broker fee and In-Stock units have a broker fee as posted, payable by Venmo/CashApp/Zelle.
Get the promised deal ($1000 off MSRP) or your money back, no refunds will be made to people who cancel their orders or refuse delivery
REFER A FRIEND and get $20! *PM me for more details
After paying my broker fee, I will walk you through the step-by-step process on how to submit your mandatory $100 refundable reservation deposit using the VW.com website. I will also provide my personal expertise and advice to help you spec out the perfect ID.4 for you. When the time comes to "lock" your order, you will also be asked to place another $400 refundable deposit. Both deposits are fully refundable all the way up to delivery if you choose not to proceed with the purchase/lease of the vehicle.
Please PM me if you'd like to take advantage of this amazing deal on an awesome EV or if you have any questions about the vehicle, deal, or frankly, anything EV related!
Best,
Anthony A
Had a great experience? Leave me a review! All input is appreciated.