the q5 plug in is part of Q5, they just differentiate it as a different trim, should be included.
S8 with $12.5k cash and $5k costco rebate on a demo is a remarkable deal if a dealer is willing to play and audi FS allows on a demo unit
E-tron GT $5k National stack with this?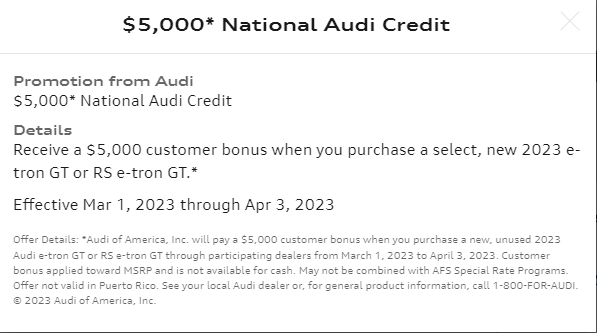 I doubt there's any 2022 A8 demos, and if there are idk how to look
How could you tell it is a loaner?
CarGurus shows 1,925 miles.
Any way you slice and dice it, with horrible MF this is not going to lease well.
Is this only good for purchase and not lease?
For Costco rebate, does the membership have to be the person getting the lease or can the membership be a household member?
The person who is signing for the car has to be on the Costco membership, before 3/1/23. Prior reports were that they asked for a voucher and a copy of the card, but the latter may have changed.
I generated a certificate from Costco online using my sis-in-laws membership but Certificate Holder name only says my Last name, no first. Generated it twice, same thing, only last name on certificate holder. Thats weird.
Are Costco, NJ, and Fed EV rebates stackable for a q4 ETron?
Costco 1k, NJ 2k, Fed 7500