Just started today with pricing @ 1 dealer. First dealer and I didn't even work that hard. They we're very open about needing a few more truck sales to make their month. This is for a new business so any tips would be greatly appreciated. Miles don't really bother me as I would likely buy out at end of lease. (I think - but depends on business needs - I'm in construction). I'm thinking I would like to be right around 400/mo. How practical is that with zero down?
2019 Ram 1500 Crew Cab 6'4 box
Saved Numbers on Leasehackr Calculator:
**MSRP: $53k
**Selling Price: $43k
**Monthly Payment: $450
**Cash Due at Signing: $0
**MSD:*??
Incentives: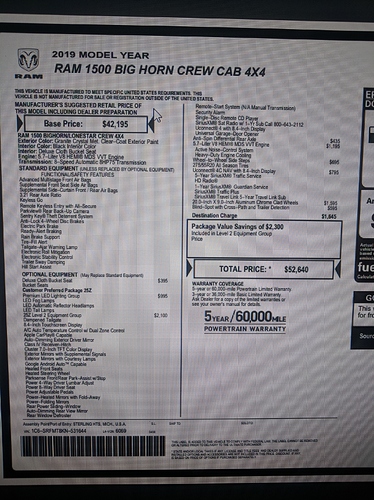 **Months:*36
**Annual Mileage:10k
MF:
**Residual:57% 30,006
Region: eastern pa
Leasehackr Score:?