Hello Leasehackr's and individuals. I'm currently looking for an individual who's eager to take a well equipped 2018 BMW 320xi. The vehicle is in great condition. Tires have a lot of rubber, the brakes, discs don't need replacing for another 38k miles(states on computer and bmw tech told me). The fluids have all been changed at the dealership and all maintenance is up to date. I'm way under mileage on this vehicle leaving you with plenty of driving. The car costs 308 with CT TAX(8.25). The MSRP of the car was 43,395 according to the spread sheet.
I'm looking to transfer the vehicle over to a new owner. all I ask is a 1500 downpayment that and you pay the transfer fee. There is 29 months remaining, however I will pay the December date. The car was also an executive demo which was leased at 4240 miles, the car currently has 8,873 in the almost 8 months of me driving it. This equates to around 1420+ miles a month of driving or around 40,600 miles of driving for the whole lease term. I do still drive this vehicle daily, but don't put more then 600 a month on it.
Below show's all of the features of the vehicle.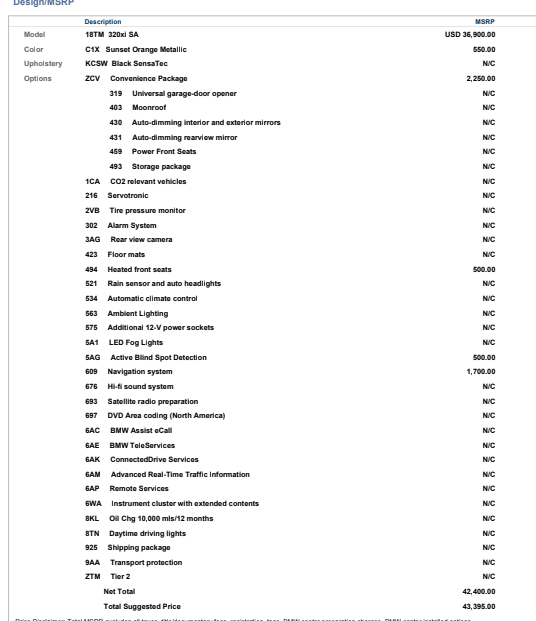 Miles at Inception:4240
Original Contract Total Miles:45,000
Miles Allowed at Turn In:49,240
Excess Charge Per Mile:$0.25
Term Length:36 Months
Contract Start Date: 4/30/18
Contract End Date: 4/30/21
Residual Value: $24,234.10
The application requires three steps. Step one, you assume the lease by paying the $500(400 refunded if denied) to BMW of which you will complete a credit app. Upon completion of this, BMW will send us both paper work to sign and mail back with has to be with contingency with their likings. Upon the completion of this, BMW sends us both an email confirming all documentation has been reviewed and completed which then allows me to release the vehicle to you.