Will update if fall thru. Thanks for interest. …
Really difficult to find the numbers without reading the entire ad
Just a suggestion you may want to add effective monthly payment to make it easier
Have you confirmed w BMW whomever takes this over wont get screwed at turn in due to it being repaired?
Just a little scary to ship something from Hawaii to find that out when it's too late.
I suggest adding some more specifics otherwise it's a huge risk for someone.
Interested if you can provide more details… pm me
You may also want to post pictures of the car. Great deal, but you'll definitely want to overcome people's apprehensions that this could be a spoof.
Is this the Nigerian Prince spreading the wealth?
Joined a month ago, no posts, no replies, no pictures, no VIN, car is in Hawaii, too good to be true, weird backstory, and asking for cash. Seems legit.
Why did you prepay for the whole term?
This is obviously not a scam.
Sweet deal and shipping back from the islands is typically cheap.
I'd verify the vin though before jumping on this. I can autocheck it if OP sends the VIN.
Doesn't seem suspicious at all…
Where are the updated images of the car? Where are the images of the vin number? Where is the paperwork showing the repair payoffs from the insurance company? What is this mystery service guys name?
I'm sure an interested party can get more details on this. It isn't like OP is asking for the $5k in Amazon/Apple gift cards — This is definitely a situation to spend a little money and use an escrow service.
Im confused on a few levels by this. I don't have possession of car its at BMW Honolulu since all the work was done at BMW Honolulu. My adjuster paid it all off as you can call and ask if serious. My advisor I will give name as well or you can call anyone at BMW Honolulu doesn't matter to me if serious. I gave the VIN. I can't take a photo of the vin on car because I don't have but again if you call BMW Honolulu as I suggested to do you can get all info you need. Or call FS. Its a simple deal. I do have the paperwork on the repair payout. Anyone who is serious can ask for all this and I can message. Lots interested Im sure I won't have a problem though.
What more Info should be posted. I am not hiding anything and anything anyone needs I can get. I have all paperwork.
I'm not asking for more info. Whoever is interested can ask you directly.
Car certainly has some history on it!
Could be a great pickup for a HI local or someone with a love for adventure and cars with a story.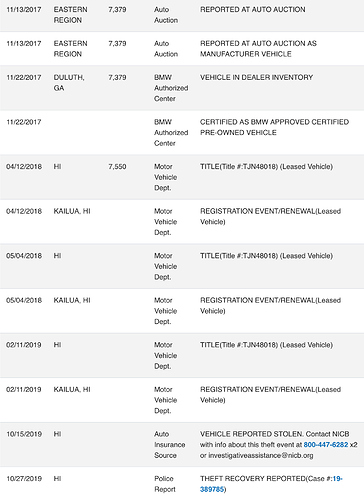 Wow… interesting background…How was a CPO car sold at auction leased?
Was auctioned as manufacturer's vehicle.
I don't see interior pics, but is this a 6MT or the DCT?